Version francaise
The three mountain cirques : Mafate, Cilaos and Salazie.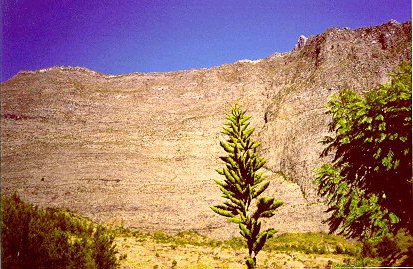 Maido



La Réunion is a real paradise for people who like trekking. They will be amazed by what they see by walking through the three cirques and the volcano.
La Réunion was born in the middle of the Indian Ocean due to the eruption of a volcano. The first volcano was higher than all the present peaks but has collapsed under its own weight. Adding this fact to the erosion led to the formation of the three cirques. Mafate cirque has an area of 10000 ha. It is located between Salazie and Cilaos.

Mafate is the cirque where people settled the latest. The first settlers where some black escaped slaves that were called "Marrons" (Brown people). Mafate is the name of one of these slaves. Then, at the beginning of the 19th century, some poor white people settled along a river: "La rivière des Galets", in the heights of the cirque. They were called "Yab-les-hauts",and this name is always used to call their heirs.
The Mafate cirque can only be reached by walking or with an helicopter. Everyday, the Mafate postman climbs here , walking, to post the mail! It is really a place of dream for trekking.
The peaks that are surrounding this cirque are: le Piton des Neiges (the highest point of La Réunion : 3069 m), le Gros Morne, le Grand Bénare and la Roche Ecrite. All of them reach the height of 3000m. The river "Rivière des Galets" passes across the cirque and connects it to the sea thanks to a marvellous valley. It is also where the "forest of coloured wood" is located. It is called this way because this forest contains many different species, all of which has its specific colors.
More than 200km of marked out paths lead through the Mafate mountain cirque.
If you enter Mafate by the bed of "la rivière des Galets", you can discover the lower part of Mafate thanks to a 2 or 3 days walk. The little villages are called "îlets". You can walk across l'Ilet à malheur, l'Ilet à Bourse, la Roche Plate, Aurère, and la Nouvelle. But one may also have little walks, during about 2 or 3 hours, leading to marvellous landscapes. MAFATE: DO NOT MISS IT.
Salazie Salazie, eastern from Mafate can be reached by car although there is nothing better than a little of trekking to discover it. One could enter Salazie coming from "la rivière du Mât". This rivers is bordered with huge cliffs and many waterfalls, among them the one called " Bras-de-Caverne" and the very famous " Voile-de-la-Mariée" (the wedding veil). The main two villages of the cirque are Salazie and Hell-Bourg.
Salazie mountain cirque is full of picturesque and beautiful little places such as "l'îlet-Bananiers", that you reach by walking on a very old footbridge that is built over the gorges of "la Rivière du Mât".
Hell Bourg used to be a spa. That's also the place where you can see a lot of "cases créoles", (Creole houses). These are little houses, the color of which used to represent the country of which the inhabitants of the house were native.
You MUST walk along the path of Bélouve or the path of Bélier that crosses Salazie and goes on to Mafate. While walking, you will dicover many lakes, among them :"la Mare-à-Poule-d'Eau".

Cilaos Cilaos is located South East from Mafate. It is connected to Mafate thanks to the Taïbit col. The road that leads to Cilaos is very winding. This cirque is surrounded by "le rempart du Grand Bénare" (2896m), "les Trois Dents des Salazes" (2121m), "le Piton des neiges" (3069m), "le Dimitile" and "le Bonnet-de-Prêtre".
As the two other cirques, Cilaos should be visited by trekking. That is the best way to see all the outstanding landscapes of La Réunion. Starting point of paths as good as those of Mafate or of the " Piton des Neiges", Cilaos can also offer you some walks that are less famous such as the forest of the Tapcal, Cabacan or "le coteau Kervéguen". It is also in Cilaos that you may enjoy canyoning or roping down in the waterfalls...




Back to Réunion island.
Ecrivez nous