Version francaise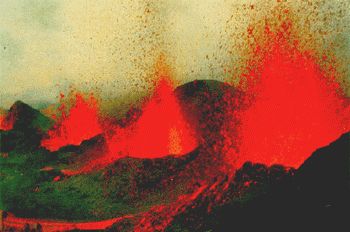 Inside the island, between Saint Benoît and Saint Pierre, you enter another world! At a height of 1100m, one can find here a green plateau full of flowers:"la Plaine des Palmistes". You are then surrounded by the forest of Bébour. Further, after the Bellevue col has been passed through, you come to "la Plaine des Sables" (the sand plain) with its moon-like landscapes. This is the place where the marked out path leading to the volcano, Le Piton de la Fournaise, starts. Then you walk along a steep path that goes down to the "enclos" Then you can begin to climb on the Volcano. "Piton de la Fournaise" is in intense activity. The last two important eruptions ouccured in 1986 -this lava flow enlarged Reunion near the town of Saint Philippe- and in 1994. Climbing to the Volcano is a really outstanding sight. If one wants to do only ONE thing in La Réunion, he must do this!

Here are some pictures of the "Piton de la Fournaise". Click on an image to have it in full screen.



Localisation of the Volcano on the Island.



Radar-view of the south east of the island. (Piton de la Fournaise is in red).



Air view of the main crater : the Bory crater (300m in diameter).



This air view was taken above the northern side of "Cratère Brûlant (burning cratere) also called Dolomieu. This is the larger of the both craters at the top of the Volcano.



Aur view of the eastern side of "Cratère Brûlant" (Dolomieu).



View of the eastern side of the top. This zone is called "Grand Pentes".



Cracks on the Piton de la Fournaise.



Air view of a cone formed in 1972.



Ground view of Cratère Brûlant (Dolomieu), at the bottom of Cratère Bory.



View of lava flows.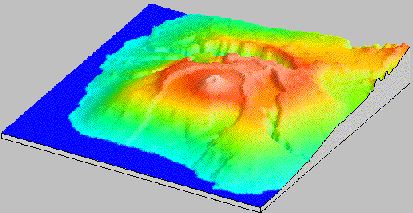 An image of Piton de la Fournaise: just for fun!

Finally, a little anecdote. During the 1986 eruption. the lava flow passed close to a church. But instead of destroying the church, the lava turnes around it without causing any damage. From this time, the church was renamed: Our Lady of lavas!
For any further information:

Please visit the Volcano Museum page

Office de tourisme de Saint Denis (tourism office)
48 rue Sainte Marie 97400 St Denis
Tél: (262) 41 83 00
Maison de la Montagne (trekking,riding,..)
10, place Sarda Garruga 97400 St Denis
Tél:(262) 90 78 78
ou
2 rue Marc Auliffe 97413 Cilaos
Tél:(262) 31 71 71
Back to Réunion island.
Ecrivez nous