Version francaise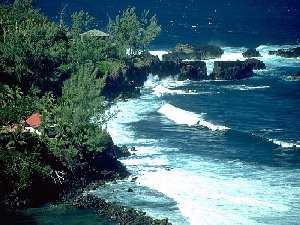 The most beautilful beaches of La Réunion are located on the Southern and the western coasts. All year long, many people from La Réunion go to relax in

Boucan-Canot, a real paradise for surfers, in Roches Noires (Black rocks), outstanding beach of white sand where the color of the water is the one you only find in the Indian Ocean. They may also go to Saint Leu, to Etang Salé to Saint Pierre,to Grand Anse or to Manapany les Bains. We must admit that the ambient temperature is rather cool in the summertime (a mean of 30 grades) and in the wintertime (a mean of 26 grades). We can note, concerning the seasons, that there are only 2 seasons in La Réunion: summer and winter. But we will speak about the weather later.
The landscapes of the coasts is varied. You come from white sand to black rocks cliffs. In these cliffs, one can see "souffleurs" (blowers). These are holes in the cliff where the sea enter and makes big white geysers. Then, when you arrive close to Saint Pierre (south of the island), the sea becomes more blue and the vacoas make it a bit wilder. The leaves of the vacoa trees are used to make bags, baskets... Finally, going east, the cliffs come back and are the places where beautiful waterfalls come down, and among them, in Sainte Suzanne, the Niagara falls.



Back to Réunion island.
Ecrivez nous